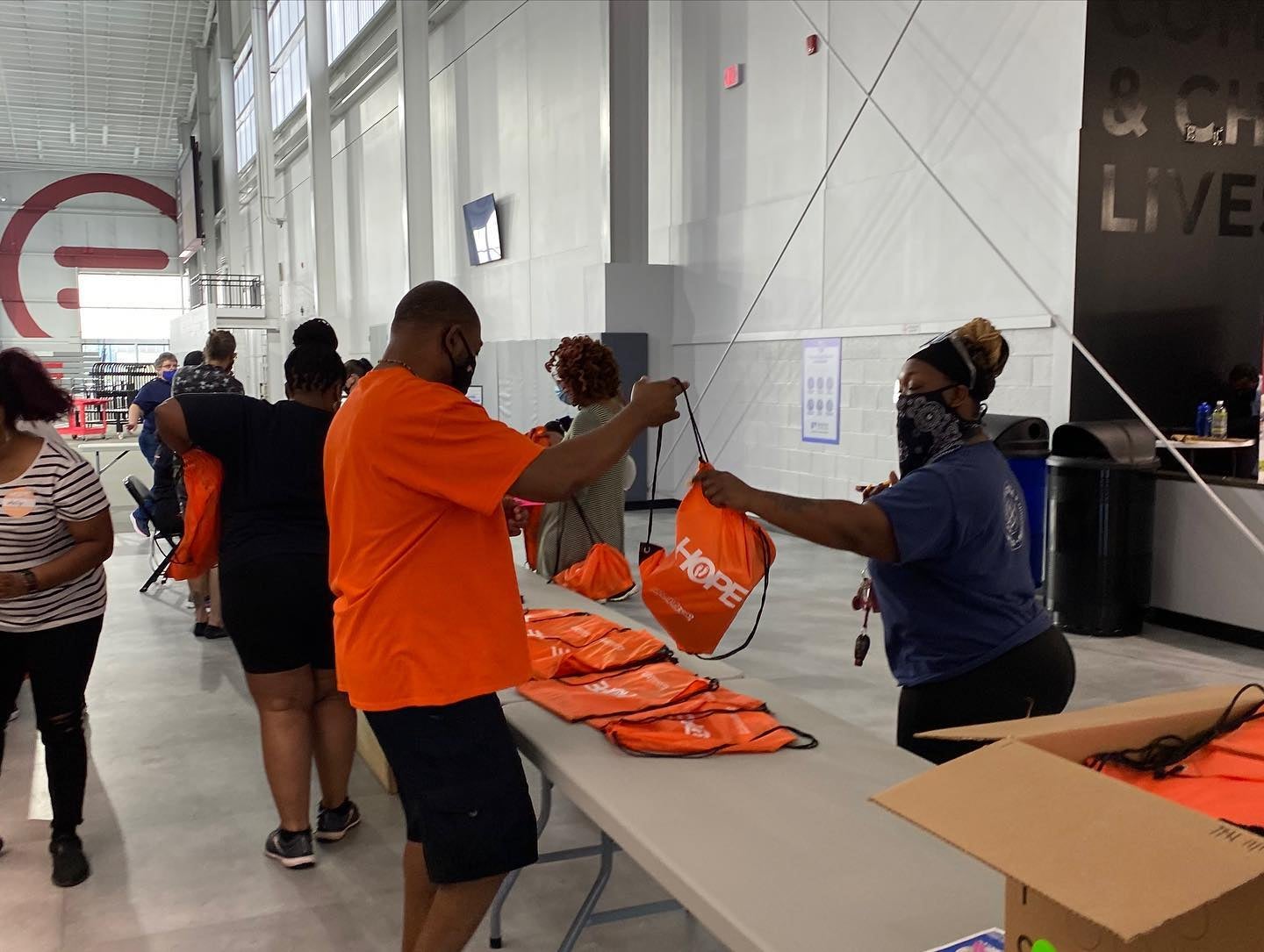 May 20, 2021 (Louisville, KY)—Samaritan's Feet has partnered with Truist to distribute approximately 250 pairs of new shoes and socks to pre-registered families in the Louisville area. The event is on Saturday, May 22 from 9:30 a.m. to 10:30 p.m. at Norton Healthcare Sports & Learning Center (3029 W Muhammad
Ali Blvd., Louisville, KY 40203). Recipients were registered through the Louisville Urban League.
Each recipient will receive a "Hope Tote" drawstring book bag that contains a new pair of athletic shoes, socks, hygiene kit (toothbrush, toothpaste, shampoo, soap, comb, alcohol wipe, mask, and washcloth), and a "Hope Note" with an encouraging message submitted online by Truist employees. To comply with COVID-19 best practices, this event will be a "walk through." This event was made possible by Truist and is part of their nation-wide campaign to serve over 7,000 people in six cities in 2021.
"We're proud to partner with Samaritan's Feet," said Calvin Barker, Kentucky and Ohio regional president at Truist. "We share in their mission to provide hope to children, and fulfilling a basic need of new shoes and socks will make a significant difference in building better lives."
This event is the one "in-person" distribution taking place in Louisville. Three additional partners will or have already received Shoe Lockers as part of this campaign to serve in Louisville: Wesley House Community Services (180 pairs on April 17, Louisville Central Community Center (150 pairs on May 22), and Kentucky Refugee Ministries (150 pairs on May 22). A Shoe Locker is a supply of athletic shoes, kept onsite at a school or organization, which are immediately available when a student has improperly fitting or worn shoes.
Directly following the shoe distribution, there will be a "Run Jump Throw" event, sponsored by USA Track & Field. For more information and to register for that event, please to go https://lul.org/event/run-jumpthrow Samaritan's Feet has implemented a COVID-19 policy for these events which can be found at SamaritansFeet.org/Response.
About Samaritan's Feet International
Samaritan's Feet is a 501(c)(3) humanitarian aid organization that serves and inspires hope in children by providing shoes as the foundation to a spiritual and healthy life resulting in the advancement of educationand economic opportunities. Over 1.5 billion people are infected with diseases that are transmitted through contaminated soil (World Health Organization, 2017). The goal of Samaritan's Feet is to create a world with zero shoeless children. Since its founding by Manny and Tracie Ohonme in 2003, Samaritan's Feet and its partners have served more than 8 million people in 108 nations and 435 U.S. cities. For more information about Samaritan's Feet International, visit www.SamaritansFeet.org.