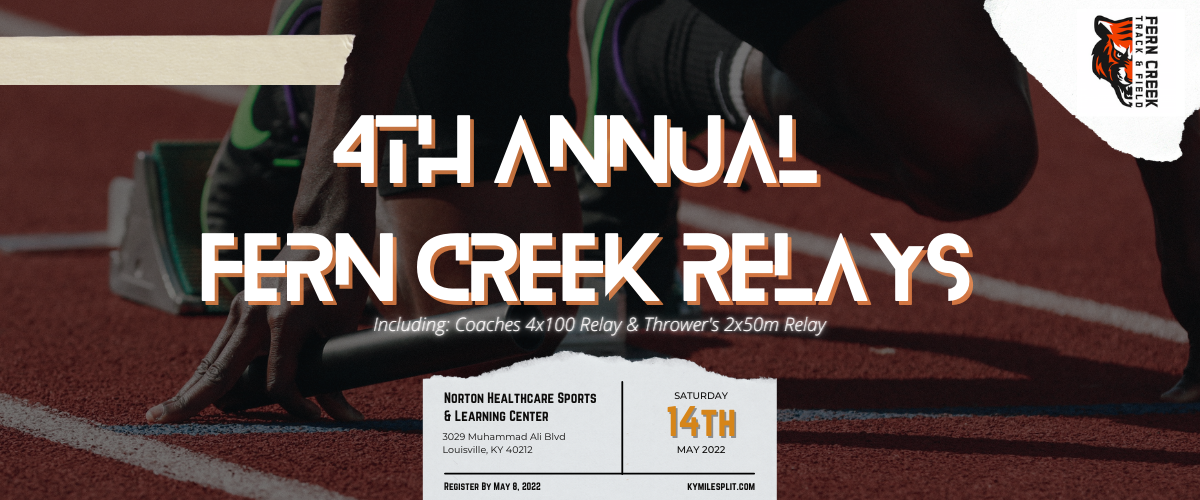 4th Annual Fern Creek Relays
4th Annual Fern Creek Relays
Sat
05.
14.
2022
4th Annual Fern Creek Relays
Date

Sat

05.

14.

2022

Event Starts

9:30 AM

Doors Open

9:30 AM

Ticket Prices

$5

Availability

On Sale Now
Event Details
Join us on Saturday, May 14, 2022, for the 4th Annual Fern Creek Relays.
Track open for warmups- 9:30 AM

Coaches Meeting- 9:45 AM

Field Events begin- 10:00 AM

Running Events begin-11:00 AM
Field Events
High Jump
Long Jump followed by Triple Jump
Shot Put followed by Discus
Field Events will begin with Girls and finish with the boys. We will try to have both runways open to run both the girls' and the boys' long and triple jump consecutively
Track Events
4000M Distance M Relay (1200-400-800-1600)
100 M Hurdles
100 M
Thrower's Relay (2x50m)
4x200 M Relay
1600M
Coaches 4x100M Relay
4x100 M Relay
400 M Dash
300 M Hurdles
800 M
200 M
3200M
4x400 M Relay
$75 per gender or $150 per team
Each school is able to enter 2 athletes per sprint event and 4 per distance event. Teams may enter only 1 relay team with an exception to the Distance medley, you may enter 2. Teams are able to enter 2 athletes per field event. Entries are due by Monday, May 10 at midnight via KYMileSplit.
DIRECTIONS
Venue Address: 3029 Muhammad Ali Blvd. Louisville, KY 40203
The Norton Healthcare Sports & Learning Center is located just 15 minutes from the Louisville Muhammad Ali International Airport and easily accessible from I-264, I-64, and downtown Louisville.
PARKING
The facility offers two surface lots with parking for 750 vehicles. Event parking is typically $5 per vehicle but can vary. There is no charge for parking on non-event days. Limited bus parking is available in an adjacent lot near the facility.
Fundraising & Volunteer Opportunties
Are you looking to raise money for your non-profit organization's equipment, travel expenses, events, and more? Norton Healthcare Sports & Learning Center offers two exciting fundraising opportunities to help you reach your needs!