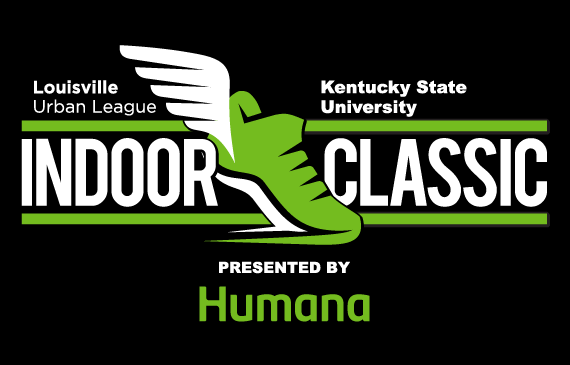 Louisville, KY —On Friday, February 25, 2022, the Louisville Urban League and Kentucky State University will host the Inaugural LUL/KSU HBCU Indoor Classic presented by Humana.
---
The indoor track and field meet will be held at the League's Norton Healthcare Sports & Learning Center and will feature teams from Historically Black Colleges and Universities (HBCUs) from across the country. This new partnership between the Louisville Urban League and Kentucky State University is a phenomenal opportunity to showcase the talent, history, and culture of amazing schools and their world-class athletes in a state-of-the-art facility.
"Humana is honored and excited to present the Inaugural HBCU Indoor Classic as part of our African American History Month celebration," said Carolyn Tandy, Humana's Chief Inclusion & Diversity Officer. "When we made a commitment to support the LUL Sports and Learning Center, we were deepening our Bold Goal pledge to the physical, mental, and economic health of West Louisville. This event magnifies our partnership commitments to the Louisville Urban League and our existing talent commitments with HBCUs, all while further representing the value we believe sports and healthy activity brings to all of our lives."
The HBCU Indoor Classic will be the first meet of its kind in the region and is intended to be an annual event featured during Black History Month. Leading up to the event, the Norton Healthcare Sports & Learning Center will celebrate its first anniversary with a series of youth and college track meets and events that showcases the versatility of the venue. The HBCU Indoor Classic will be an exciting capstone to a great month of activity.
"Thank you to the Louisville Urban League, Kentucky State University, and Humana for showing some Team Kentucky spirit and working together to bring such a great event to the Russell neighborhood," said Gov. Beshear. "This is a unique opportunity to watch world-class athletes from HBCUs compete while also supporting the local community. We appreciate each team that is traveling to Kentucky to make this meet possible, and we wish you all good luck."
The Norton Healthcare Sports & Learning Center is competitively positioned as one of the fastest indoor track facilities in the world and has proven that stance as numerous records were broken in the venue's inaugural year. The facility has attracted world record holders, Olympic athletes, and some of the top collegiate and high school track and field athletes in the nation and this event promises to be no different.
"Partnerships like this one between KSU and the League, are exactly why we built this facility," said Louisville Urban League President and CEO, Sadiqa Reynolds. "These collaborations are great for the community because they expose people to wonderful institutions like Kentucky State and other HBCUs, and great for our local economy as they bring new people and their resources to the west end."
"On behalf of Kentucky State University and Acting President Clara Ross Stamps, we are very excited to partner with the Louisville Urban League to establish an event of this magnitude in the great Commonwealth of Kentucky," said Kentucky State Athletic Director, Ramon Johnson. "We are thankful that Humana has graciously opted to sponsor an event that will showcase world-class track and field talent, promote the culture and heritage of Historically Black College and Universities, and bring a climactic end to Black History Month."
In addition to seeing amazing feats of athleticism, attendees can enjoy food from world-class concessionaire, SodexoLive!, purchase treats and specialty items from Thorntons, patronize local area Black businesses including the venue's on-site screen and sublimation printing company, Sow Journey, LLC, and enjoy the interactive rock climbing and duckpin bowling in the Fun Zone.