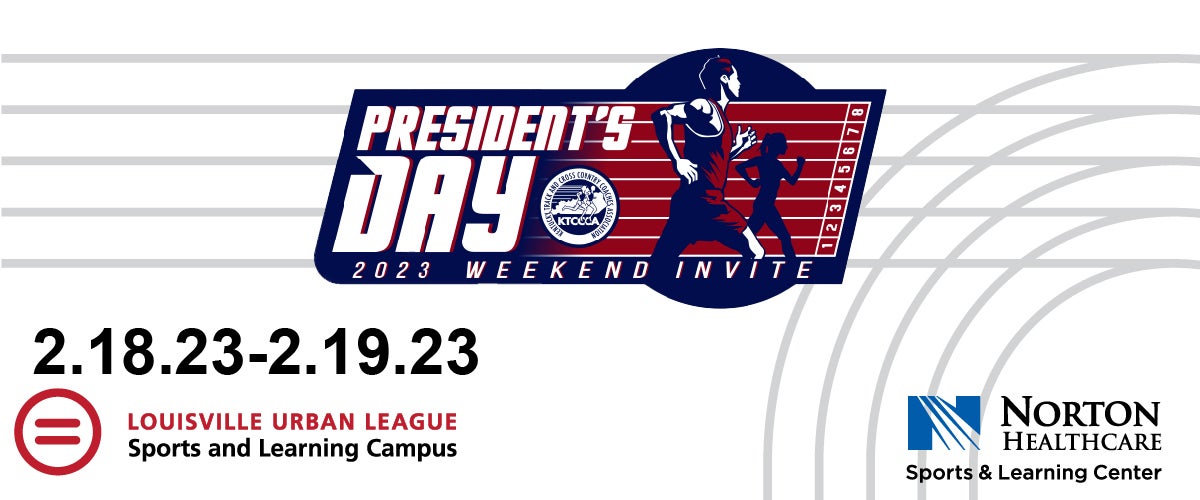 President's Weekend Invite Returns
with Most Athletes for a Track Meet This Season
3,000 Athletes Expected to Compete in this Weekend's Events
Photo courtesy of Mike Garcia.
Louisville, Ky. (February 16, 2023) - The KTCCCA President's Day Invite returns to the ASM Global managed Norton Healthcare Sports & Learning Center this weekend with a record number of athletes. The venue will host four consecutive days of indoor track meets including President's Day Invite, Mid-South Conference Indoor Championships and Middle School Monday Track Meet.

Due to an overwhelming number of registrations in the final days before the meet this week, the President's Day Invite, hosted by the Kentucky Track and Cross Country Coaches Association (KTCCA), has grown into the largest high school indoor track meet in venue history. The 2-day event is the final competition before the KTCCC state meets being hosted at the Norton Healthcare Sports & Learning Center March 5-6 and features more than 2,250 athletes from XX states representing 137 teams. Three-thousand spectators are expected to be in attendance as well.

Meet information is available online. The site will be updated throughout the week with entries, meet schedule, and streaming information. Fans can also purchase advance tickets online.

The Norton Healthcare Sports & Learning Center will also host the Mid-South Conference Indoor Championships on Friday, February 17 with approximately 600 college athletes and Middle School Monday Track Meet returns on Monday, February 20 with approximately 150 athletes.

For more information on all upcoming Norton Healthcare Sports & Learning Center events visit our website.
About Norton Healthcare Sports & Learning Center
Norton Healthcare Sports & Learning Center is a 24-acre, multi-sport complex located in Louisville's Russell neighborhood that opened in February 2021. The venue hosts local, regional and national indoor and outdoor track meets, other sporting events, concerts and a variety of other events. Featuring 90,000 square-feet of floor space with a 4,000 seat, 200-meter banked indoor track and a 400-meter outdoor track, the venue attracts athletes and guests from across the nation and brings a large economic impact to the region. Additionally, the complex includes a 4-lane mini bowling alley, an interactive rock-climbing wall and a multi-purpose space to be used for educational programming for the Louisville community.
About Louisville Urban League
The Louisville Urban League assists African Americans and those at the margins in attaining social and economic equality and stability through direct services and advocacy. For more information, go to lul.org or follow us on Facebook, Twitter (@louisvilleUL), or Instagram (@louisville_ul).
About ASM Global
ASM Global is the world's leading venue management and services company. The company was formed by the combination of AEG Facilities and SMG, global leaders in venue and event strategy and management. The company's elite venue network spans five continents, with a portfolio of more than 300 of the world's most prestigious arenas, stadiums, convention and exhibition centers, and performing arts venues. From Aberdeen to Anchorage, and Sydney to Stockholm, its venues connect people through the unique power of live experiences.

ASM Global's diverse portfolio of clients benefit from the company's depth of resources and unparalleled experience, expertise and creative problem-solving. Each day, the company's 61,000 passionate employees around the world deliver locally tailored solutions and cutting-edge technologies to deliver maximum results for venue owners and amazing experiences for guests. By consistently looking for new ways to envision, innovate and empower the spaces and places that bring people together, ASM Global elevates the human spirit while delivering the highest value for all stakeholders. For more information, please visit www.asmglobal.com.