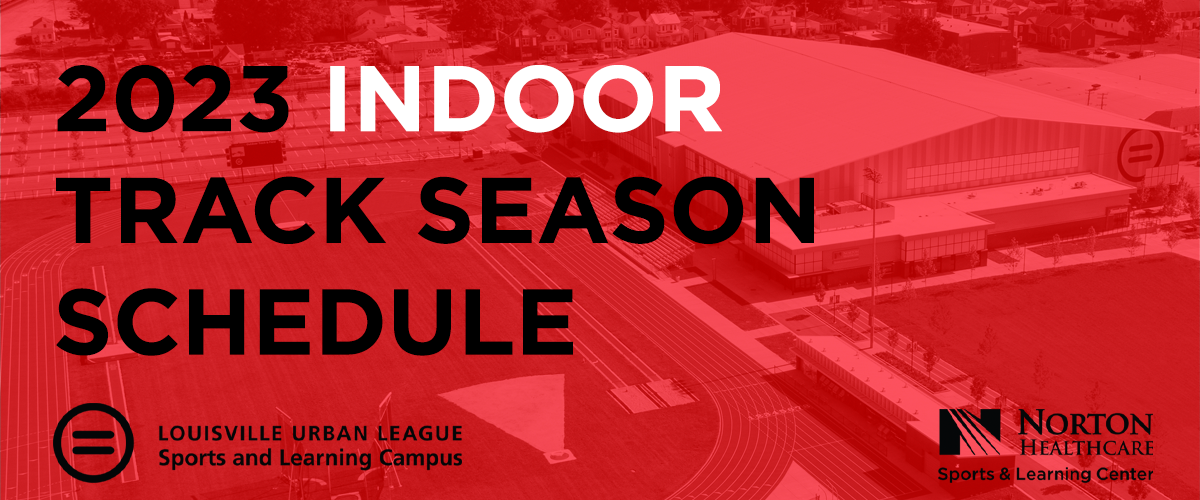 Louisville, Ky. (November 30, 2022) - The Norton Healthcare Sports and Learning Center has undeniably changed the face of indoor track and field in the Louisville region by making the sport more accessible to local athletes than ever before. The 2022-23 season is shaping up to be the best since the venue opened in 2020 with the addition of several championship events.

The facility's indoor track season kicks off on December 4 with the Commonwealth College Opener and continues with more than 20 youth, high school, college, and masters meets through March 2023. Some of the more notable meets on the calendar include the 2023 ACC Indoor Track and Field Championships, USA Track & Field Youth Indoor Championship, USA Track & Field Masters Indoor Championship, and the Louisville Indoor Games.

During the 2021-22 indoor track season, the venue hosted 20 indoor track meets including the Mid-South and Appalachian Athletic Conference Championships; the Louisville Urban League / Kentucky State University HBCU Classic; the American Track League pro meet and the Kentucky Indoor High School State Championships. These meets featured 9,000 athletes from more than 80 colleges, 20 foreign countries, 250 US cities and 27 US states. This year's track meets are expected to draw even more athletes and spectators and generate a larger economic impact for Louisville's west end and the surrounding areas.

"It's exciting to see how quickly the Norton Healthcare Sports and Learning Center has made a positive difference in our community," said Louisville Sports Commission Vice President of Sports Development Greg Fante. "In two short years, events held at the facility have brought in more than $20 million in economic impact and continue to position Louisville as a regional and national hub for a variety of sporting events. But just as important are the number of student-athletes who have had the opportunity to compete at a high level in a world-class facility that is quickly becoming the heart of the Russell neighborhood."

Athletes at all levels of the sport will have the opportunity to compete on one of the fastest indoor tracks in the world this season.

2022-23 Norton Healthcare Sports & Learning Center Indoor Track Meet Schedule:
| | |
| --- | --- |
| December 3, 2022 | |
| December 9, 2022 | |
| January 13-14, 2023 | |
| January 14-15, 2023 | |
| January 16, 2023 | |
| January 20, 2023 | |
| January 21, 2023 | |
| January 27-28, 2023 | |
| January 29, 2023 | |
| February 3, 2023 | |
| February 4-5, 2023 | |
| February 10-11, 2023 | |
| February 11-12, 2023 | |
| February 17, 2023 | |
| February 18-19, 2023 | |
| February 24-26, 2023 | |
| March 4, 2023 | |
| March 4, 2023 | |
| Sunday, March 5, 2023 | |
| Sunday, March 5, 2023 | KTCCCA Middle School, Masters and Open Indoor State Championships |
| March 10-13, 2023 | |
| March 17-19, 2023 | |

"We are grateful to witness what this facility has done and continues to do for the sport track & field and for our local community," said ASM Global General Manager Eric Granger. "Providing one of the top facilities in the world for local athletes to train and attracting a variety of local and championship-caliber track meets has been a top priority for our team and we are pleased with the continued development of programming and the impact it has locally."

"I am excited for another great indoor season," said President of KY USATF Tim King. "This year we are hosting two National Championships, the USATF Masters and the USATF Youth Indoor. Plus we have other great opportunities for all ages to compete in this facility. It's truly exciting for all of the track and field community."

Venue personnel has plans to add additional training opportunities for local athletes soon. For a full schedule of upcoming events and more information, please visit nortonslc.com.
About Norton Healthcare Sports & Learning Center
Norton Healthcare Sports & Learning Center is a 24-acre, multi-sport complex located in Louisville's Russell neighborhood that opens in February 2021. The venue will host local, regional and national indoor and outdoor track meets, other sporting events, concerts and a variety of other events. Featuring 90,000 square-feet of floor space with a 4,000 seat, 200-meter banked indoor track and a 400-meter outdoor track, the venue will attract athletes and guests from across the nation and bring a large economic impact to the region. Additionally, the complex will include a 4-lane mini bowling alley, an interactive rock-climbing wall and a multi-purpose space to be used for educational programming for the Louisville community.
About Louisville Urban League
The Louisville Urban League assists African Americans and those at the margins in attaining social and economic equality and stability through direct services and advocacy. For more information, go to lul.org or follow us on Facebook, Twitter (@louisvilleUL), or Instagram (@louisville_ul).
About ASM Global
ASM Global is the world's leading venue management and services company. The company was formed by the combination of AEG Facilities and SMG, global leaders in venue and event strategy and management. The company's elite venue network spans five continents, with a portfolio of more than 300 of the world's most prestigious arenas, stadiums, convention and exhibition centers, and performing arts venues. From Aberdeen to Anchorage, and Sydney to Stockholm, its venues connect people through the unique power of live experiences.

ASM Global's diverse portfolio of clients benefit from the company's depth of resources and unparalleled experience, expertise and creative problem-solving. Each day, the company's 61,000 passionate employees around the world deliver locally tailored solutions and cutting-edge technologies to deliver maximum results for venue owners and amazing experiences for guests. By consistently looking for new ways to envision, innovate and empower the spaces and places that bring people together, ASM Global elevates the human spirit while delivering the highest value for all stakeholders. For more information, please visit www.asmglobal.com.