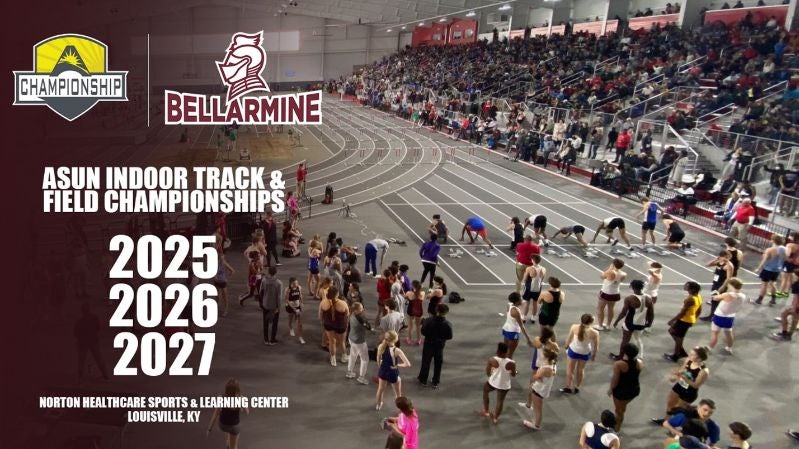 The ASUN Conference announced recently that Bellarmine University and the Norton Healthcare Sports & Learning Center will serve as hosts of the ASUN Indoor Track and Field Championships for the 2025, 2026 and 2027 seasons.

"We certainly welcome the opportunity to host the ASUN track and field community in Louisville through a terrific collaboration between Bellarmine, the Louisville Sports Commission and the Norton Healthcare Sports & Learning Center," said Bellarmine University Director of Athletics Scott Wiegandt.

"Through our previous hosting experiences, we know that the people of Louisville will embrace this championship, and we are anxious to help showcase our wonderful city and the beautiful facility that will be the home to the ASUN Championships," Wiegandt added.

Norton Healthcare Sports & Learning Center sits on the Louisville Urban League Sports & Learning Campus, a 24-acre, multi-sport complex located in Louisville's Russell neighborhood that opened in February 2021. The campus features 90,000 square feet of floor space with a 4,100 seat, 200-meter banked Mondo indoor track. As one of only nine hydraulically banked indoor track and field facilities in the nation, the Norton Healthcare Sports & Learning Center was built for top performances.

The three-year run of the ASUN Championships is estimated by Louisville Tourism to have a $2.25 million economic impact on the local economy.

"We're thrilled to again partner with Bellarmine Athletics to bring high-level championships to Louisville," said Louisville Sports Commission President and CEO Greg Fante. "And it's exciting to see what a positive difference the Norton Healthcare Sports & Learning Center is making in our community. The ability to expose bright and talented student-athletes to our city is about more than economic impact. It is also about providing them the opportunity to compete in a world-class facility that is quickly building a reputation as one of the fastest indoor track venues in the nation."

The ASUN Indoor Track and Field Championships are a two-day event in which team and individual champions are crowned. The 2023 event will be held in Lynchburg, Virginia on Feb. 24-25 with the 2024 event headed to Gainesville, Florida. The three-year run in Louisville includes the following dates: Feb. 28 - March 1, 2025; Feb. 27 - 28, 2026; and Feb. 26 - 27, 2027.

ASUN Conference Commissioner Ted Gumbart said the league chose Louisville for several reasons.

"The ASUN had multiple championship site options for indoor track and field, and bringing this event to Louisville, in partnership with Bellarmine University, will provide a great student-athlete experience," Gumbart said. "Louisville is a great sports city, Bellarmine is a proven high-quality host, and the facility will have all the attributes for us to run an outstanding meet. We look forward to the track providing a venue where we will see many new ASUN records set."