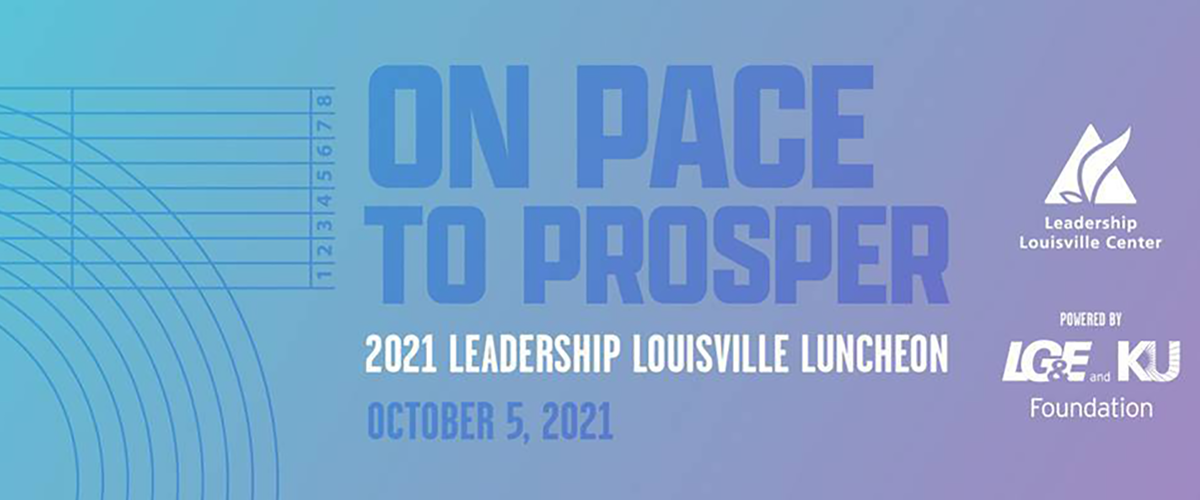 ON PACE TO PROSPER
2021 LEADERSHIP LOUISVILLE LUNCHEON
ON PACE TO PROSPER
2021 LEADERSHIP LOUISVILLE LUNCHEON
Tue
10.
05.
2021
ON PACE TO PROSPER
2021 LEADERSHIP LOUISVILLE LUNCHEON
Date

Tue

10.

05.

2021

Event Starts

10:30 AM

Ticket Prices

Starting from $100.00
Event Details
Join business and community leaders from over 230 organizations at the new Norton Healthcare Sports & Learning Center in west Louisville for an event of collaboration, innovation, and more. Hear from leaders including Max Siegel, this year's keynote speaker, to gain insight into what it takes to go further in business and in life. Establish relationships and network with others as we pass the baton and help move toward a brighter future for Louisville.
The annual Leadership Louisville Luncheon is a must-attend civic event that gathers over 1,000 of the region's most influential leaders to build connections and together tackle the major issues of our time. Hosted annually by the Leadership Louisville Center, the event attracts attendees representing leaders from large corporations, small businesses, government, and the nonprofit community who want to help gain momentum for strategic regional priorities. Keynote speakers include top leaders from around the U.S. who can speak to our common challenges and opportunities to make Louisville a top-tier city.
AGENDA
10:30 am | Networking & Sponsor Reception
11:30 am | Lunch & Program
1:00 pm | Close
WHY ATTEND?
This premier networking event is your opportunity to build new relationships among our region's top decision-makers and have a voice in a competitive vision for Louisville's future. It is the gathering place for those committed to the success of our city and larger region, who also want to increase their organization's visibility. You'll hear from innovative leaders who challenge our current thinking and bring fresh ideas as we work to achieve more together. If you wish to be on the pulse of our community's innovation and development and engage with those who are dedicated to shaping that vision, don't miss the 2021 Leadership Louisville Luncheon.
COVID-19 SAFETY PRECAUTIONS
The event organizer will be following current CDC guidance for in-person events. This includes requiring all attendees to wear masks except when actively eating or drinking, having hand sanitizer readily available, and limiting capacity to provide some physical distance between attendees. Because the safety of our participants and staff is of utmost importance, we are taking the additional precaution and ask that all attendees be fully vaccinated against COVID-19 OR have received a negative COVID-19 test within 72 hours (3 days) of attending. Read more about the Leadership Louisville Center's approach to safely hosting in-person gatherings.
Additional Ticket Information
Individual ticket: $100.00
Table Sponsor: $2,000.00