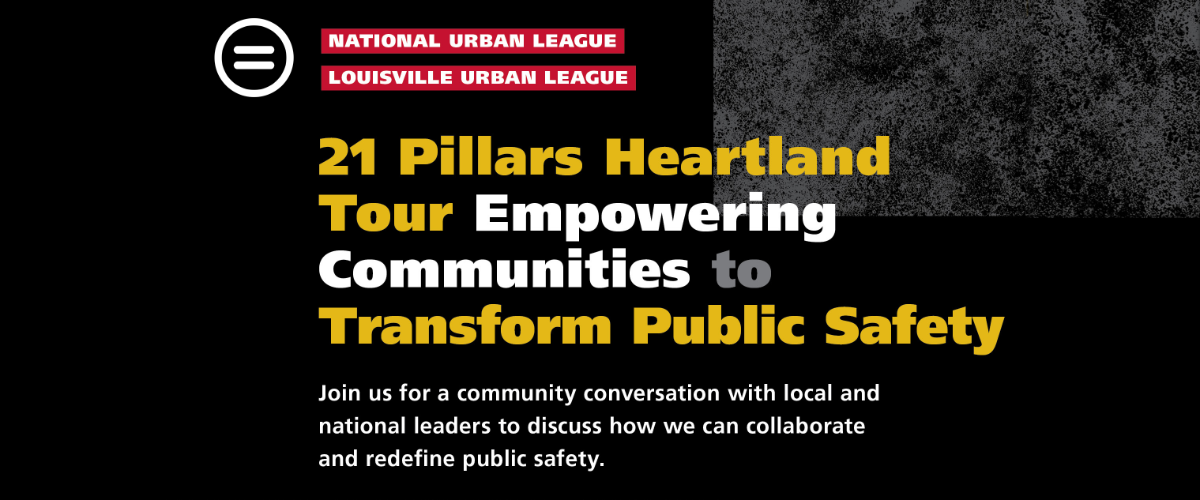 21 Pillars Heartland Tour | Empowering Communities to Transform Public Safety
21 Pillars Heartland Tour | Empowering Communities to Transform Public Safety
Thu
10.
14.
2021
21 Pillars Heartland Tour | Empowering Communities to Transform Public Safety
Date

Thu

10.

14.

2021

Event Starts

6:30 PM

Ticket Prices

Free
Event Details
The National Urban League's Heartland Tour is coming to Louisville on October 14 at 6:30 PM. This event will take place at Norton Healthcare Sports & Learning Center located at 3029 W Muhammad Ali Blvd. The Heartland Tour will highlight NUL's 21 Pillars for Redefining Public Safety and Restoring Community Trust. The pillars center on five key themes that are fundamental to the protection and preservation of life, dignity, and trust, while also building safer communities. Those themes are:
Collaborate with Communities to Re-Envision Public Safety
Accountability
Change Divisive Policing Policies
Require Transparency, Reporting and Data Collection
Improve Hiring Standards and Training
We invite members of the community to engage with our panel during a town hall meeting to discuss the pillar theme of "Collaborate with Communities to Re-Envision Public Safety." The panel will include community leaders and activists. Things can be better in this city and each of us can play a role.
Note: At this time, mask requirements will be strictly enforced and social distancing will be in place. If conditions change, we will notify using the information provided.